Note: Meets CSS Level 3. W3C has not released the full specification for this level.
Note: To be updated to meet W3C HTML 5.0 when 5.0 is released - late 2010 or early 2011.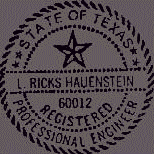 ENGINEERING CONSULTANTS offer a professional service to assist in solving engineering problems by diagnosing, recommending the optimum solutions, and implementing the required action. Just as an attorney or an accountant provides professional services to supplement a company's reservoir of knowledge, a skilled engineering consultant can provide technical assistance in management and manufacturing techniques.
ANALYTICAL SKILLS
OBJECTIVITY
BROAD EXPERIENCE
DEVOTED FULL TIME
COMPLETE PROJECT IN A SPECIFIED TIME FRAME
INTEGRITY/CONFIDENTIALITY
At your invitation, we can schedule a visit to your facility to meet with you and discuss your requirements with no cost or obligation to your firm. All you need to do is call to indicate a need.
Our specialty -- productivity: 1) The preliminary design of new facilities and 2) The analysis of existing less productive facilities to make them more productive.